After taking the lead in last week's Christmas celebrations, Year 4 were very much in the festive mood this week.
We have created our Christmas cards by using thumbprint reindeers (complete with Rudolf red noses) and had to use our Maths skills to plan out the rectangles for the design.  We also had our first attempt at using pinking shears. Tricky, but very effective.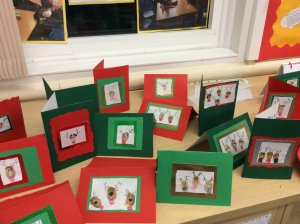 Our calendars this year are all ready to go too. This time we've gone for a desk calendar -just perfect for Christmas gifts for our families.  We hope they like them!