World Nursery Rhyme week 2019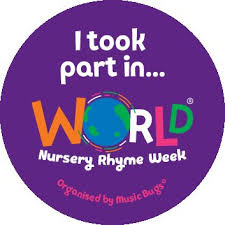 This Year both Nursery and Reception took part in World Nursery Rhyme week. We had a 'rhyme a day' challenge where we had to learn 5 rhymes over 5 days!!
By the end of the week we did it!! This week we have remembered the words and actions to:
Monday 18th November – "Baa Baa Black Sheep"
Tuesday 19th November – "Down in the Jungle"
Wednesday 20th November – "Incy Wincy Spider"
Thursday 21st November – "Row, Row, Row Your Boat"
Friday 22nd November – "Two Little Dickie Birds"
Reception found they knew even more than five Nursery Rhymes – we sang the ABC song, twinkle twinkle, Polly put the Kettle on plus many more!
Nursery rhymes play an important role in early childhood development and education. 
As well as being fun they are excellent teaching tools:
Nursery rhymes and children's songs boost vocabulary and language development
They help children to develop literacy skills
They provide a fun way to support early numeracy skills
Nursery rhymes help children to develop social, physical and emotional skills
If you want to see some of the videos to the Nursery Rhymes we have learned this week have a look at https://www.worldnurseryrhymeweek.com/
Check us out with our certificates!